8th Miniworkshop on Operator Theoretic Aspects of Ergodic Theory
May 3-4, 2019, Leipzig
This is a follow-up of the workshops in Wuppertal, Kiel, Leipzig, Feldkirch, Tübingen, Wuppertal, and Kiel.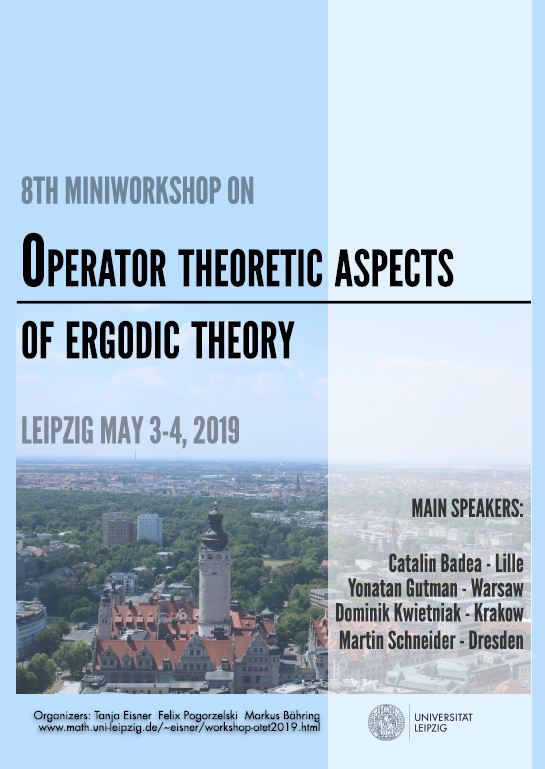 Poster (made by Lisa Matusche)

Registration
The registration is now open, please write an email to the organizers if you want to participate. If you would like to contribute a short talk please let us know no later than April 12 indicating a preliminary title. Depending on available slots we will get back to you and ask for a short abstract.
Key Speakers
Catalin Badea (Lille)
Yonatan Gutman (Warsaw)
Dominik Kwietniak (Krakow)
Martin Schneider (Dresden)
Participants
Shayan Alikhanloo (Bielefeld)
Mohamad Alkhateeb (Damascus)
Michael Baake (Bielefeld)
Markus Bähring (Leipzig)
Siegfried Beckus (Potsdam)
Christian Budde (Wuppertal)
Nikolai Edeko (Tübingen)
Tanja Eisner (Leipzig)
Balint Farkas (Wuppertal)
Markus Haase (Kiel)
Till Hauser (Jena)
Bernd Käßemodel (Leipzig)
Henrik Kreidler (Tübingen)
Viktoria Kühner (Tübingen)
Kari Küster (Tübingen)
Neil Mañibo (Bielefeld)
Rainer Nagel (Tübingen)
Felix Pogorzelski (Leipzig)
Agnes Radl (Greifswald/Leipzig)
Daniel Sell (Jena)
Franziska Sieron (Jena)
Sita Siewert (Tübingen)
Arleta Szkola (Leipzig)
Felix Weiske (Leipzig)
Elias Zimmermann (Leipzig)
Konrad Zimmermann (Leipzig)

Program
Please find the program here. The talks will take place in the Felix-Klein lecture room P501, Augusteum, Augustusplatz 10.
Abstracts of key talks

There will be a conference dinner on Friday in Andria (at everybody's own costs, unfortunately).

Accommodation
We recommend for example the following hotels:

Motel One
B&B Hotel Leipzig-City
Ibis Leipzig City
InterCityHotel
SchlafGut
Five Elements Hostel

We are happy to help with the reservation. Please contact Markus Bähring (see the e-mail address below) for any assistance regarding reservation or arrival.

Restaurants
Here you find a list of restaurants close to the university.
Organizers
Tanja Eisner, Felix Pogorzelski, Markus Bähring (markus.baehring*at*mis.mpg.de)